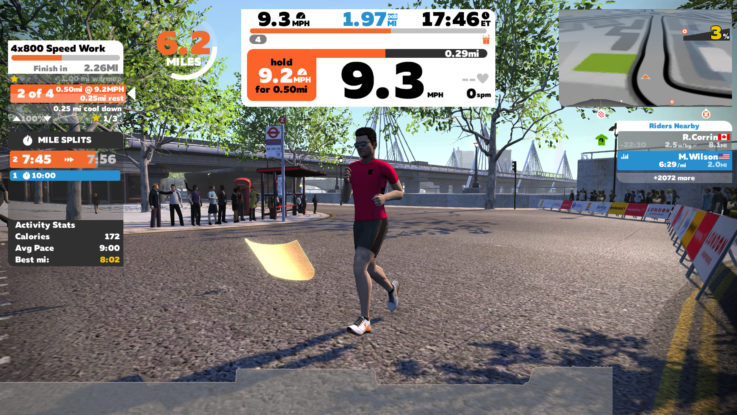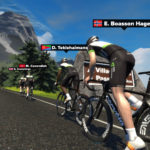 I'm all for my gadgets and tech when it comes to my running. Anything tech that can help improve my health, fitness and running then I'm willing to give it a try. That's where Zwift running comes in along with the Zwift App. I first became aware of Zwift via my use of Strava, and the numerous people I follow that use it as part of their indoor Cycling training. Zwift run 'officially' launched on February 8th, 2018 in New York City with lots of celebrities running on treadmills. It had of course been in beta for around 18 months before the launch. Here's my Zwift running virtual world review, enjoy!
Zwift Running Review
Zwift runs works in a very similar way to Zwift Cycling in that it is a virtualized running environment. It provides many virtual locations and training plans to get you started.
Locations
London, see the sights
Watopia, a made-up place that allows you run around an active volcano.
Training Plans
4-mile tempo run
4x 1.6km speed work
4x 0.8km speed work
8x 0.4km repeats
…You get the idea.
In addition to the above training plans, you can also join scheduled group runs.
Kit Needed to Start Running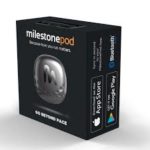 Unlike the Cycling version of Zwift; to get started the required equipment is very cheap. All you need is;
A smart treadmill, either at home or in the gym (Bluetooth treadmills are supported)
A foot pod, starting from as little as £29.99. I use the Milestone pod as it is the cheapest, others such as

stryd footpod

are available
The free Zwift app, available for Windows and iOS (Tablet or Phone & Apple TV). Sadly no Android version as yet
An optional heart rate monitor.
A list of the fully supported kit can be found on the official Zwift website.
Where would my Zwift running review be without a pro's and con's section to help you make your mind up? So here it is.
The Pro's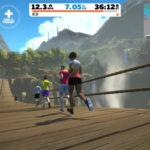 As I've previously mentioned the essential kit to get started is cheap, very cheap. A Zwift run 'free' account is entirely that, free, and unlimited.
Over the past couple of weeks, I've found that Zwift running has eliminated the boredom of treadmill running, and pushed me more to do more treadmill work than I usually would have. To give you extra motivation as you run you gain 'XP' points, these lead to in-game rewards, items such as new kit and new levels.
In a world where data is everything, Zwift running does not let you down. Within the stunning visuals, there is a host of information, everything from splits times to speed to activity stats. Whats more you can also see where you are related to other runners and riders.
The Con's
Zwift's teething problems are well documented across the net. Server connection problems being the primary cause of concern. During my free account test over the past few weeks, I have experienced only one session where I could not connect to their servers. This was however only a brief blip (5 minutes at best). All in all, there's not much to dislike.
Summary
So to answer my original question, is it worth it? Despite the higher price now I think it it is and I will be upgrading very soon as I'm seeing the benefit to my running with each run I do. If you haven't tried Zwift or are a little apprehensive, I'd encourage you to take the plunge. Therefore, and in conclusion, the answer is Yes its worth it.
Have you tried Zwift run? Let me know your opinion below or on Twitter.
A big thank you to Chris Snook at Zwift for clarifying subscription costs. Zwift run is entireley free and unlimited.