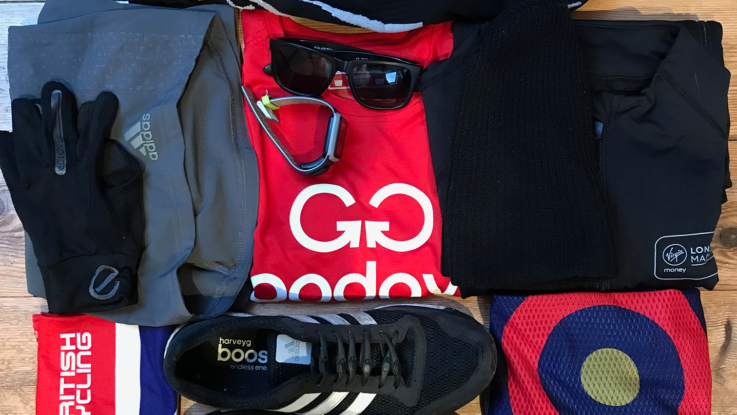 What's In My Kit Bag
Running Shoes
'Always black and white.'
Always Adidas, ever since I was at primary school. It was just what everyone wore, especially Samba, and now they're retro, it seems!. I'm happy with my brand, don't get me wrong, but after all the time, the gentleman is not for changing! I have three pairs – trail, lightweight, long distance. Oh, and always black and white (my football team!). Oh, and vegan! I love my personalised inner sole (easily pleased?). And I'm a recent convert to Hickies for one of my three pairs of Adidas. A bit tricky to get the right fit but loads easier than laces.
Socks
For a long time I wore football socks (erm, my b&w team again). One of the quirks of old football socks is that the more you wash them, the tighter they get. One of my running buddies once asked if I wore compression socks. 'No' I said, 'football socks'.
Shorts
Guess what, Adidas (S5), and my favourite pair are grey (a bit of a radical departure from my usual black and white!).
Undershirt
I have quite a few of these both running- and cycling-specific. I have to say, though, that my Rapha cycling undershirts, though not cheap, are the best for running too. And my favourite shows off my mod credentials (albeit under my jersey).
Top
'I love the ethos of Good Gym.'
Although I have shirts from my marathons in places such as Berlin, Copenhagen, New York City, Paris and Valencia, I love the ethos of Good Gym, and it makes me proud to support them and wear the shirt. I'll even wear red and white for them!
Snood
I have a few, but the Buff freebie I got from British Cycling is my favourite, partly cos everyone loves a freebie, partly, again, it's a mod thing.
Gloves
eGloves were a recent discovery for me. Great value and I have a couple of pairs.
Hat
A (black) beanie quite a bit of the year round. A warmer option for the slightly balding gent and it keeps the sweat out of my eyes.
Jacket
Although I've run the London Marathon twice, it's hard to get a ballot place. That said, the jacket they give you for donating your entry fee when you don't get in is bloody good.
Sunglasses
I have always worn shades in the style of Wayfarers, usually £3 from the market (could never afford the originals). But my BBB Street glasses are just the business for clarity of vision and UV protection.
Watch
'I'm not a great believer in spending too much cash on kit.'
I'm a lower end of the range TomTom man – it's safe, and you know what you get. I don't believe in spending too much cash on kit, bells and whistles are not required, thanks! There are also a lot of myths about what's needed for running. For lots of my training runs, I prefer my iPhone with Strava and Nike+ apps (I know, two lots of records?!). I have Strava set metric for cycling, Nike+ set imperial for running. I grew up learning both, and I'm happy to keep up the tradition! That's what's in my kit bag, what's in yours?
Best wishes
Harvey